Ready Mixed Concrete and Aggregate Supply serving Saskatoon and Area
Froese Concrete Ltd. offers a wide variety of concrete mix designs. These mix designs are formulated to meet or exceed the Concrete Sask standards and specifications. We have been a member of Concrete Sask for nearly 30 years.
As a member of Concrete Sask we offer and produce a C2 mix design. This mix design is specifically designed for Saskatchewan's harsh freeze/thaw environment. It is ideal for exterior flatwork such as driveways, parking lots, walkways and patios.
Our ready mixed concrete is produced in our modern computerized indoor batch plant. We offer year round concrete services with material heated in our up to date steam facility.
There are many benefits in choosing ready mixed concrete mixes. The life expectancy of these concrete mixes is well beyond that of other materials, giving you a sound investment and quality craftsmanship. Let Froese Concrete Ltd. be your ready mixed concrete supply experts! For questions, concerns, or more information, contact us!
We've Expanded to serve you better.
Truck & Auto Repair
Service & Repair
Accessories & Install
Commercial Truck Wash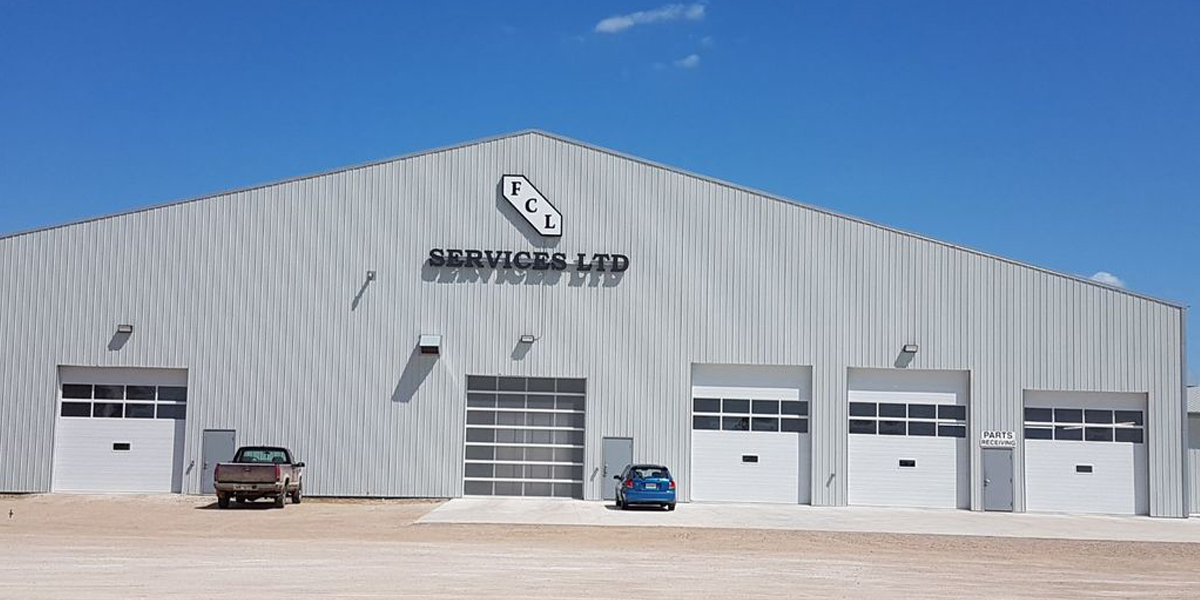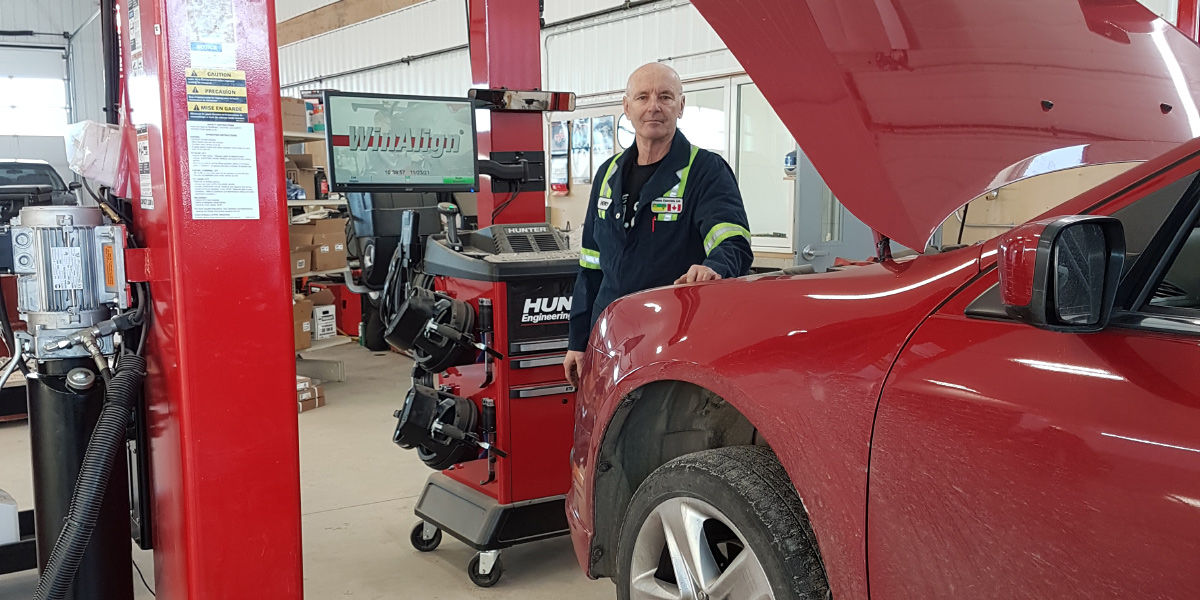 In 2020 Froese Concrete took another step forward to serve our local cliental by building a state of the art Truck & Auto Service & Repair Mechanics Shop. It is located adjacent to the concrete plant complete with a commercial truck wash bay. The mechanics shop is managed by our Interprovincial Journeyman Master Technician with over 35 years of experience. Make FCL Services your one stop shop. We are now also a certified accessory & tire dealer. Get your vehicle repaired and accessories installed all in one convenient location.
Other Products Available
General info for all of our aggregate: Available for pick up only, No loading fees, No appointment required, Prices are per yard, $35.00 minimum charge. Effective Immediately – Carbon Levy of $1.15 per yard.
Sand
Washed Sand

Size: 1/8″ (5mm) and down
Uses: landscaping, under patio blocks, playgrounds, concrete mix
Price: $43.00 per yard
Fine Sand (Unwashed)

Size: 1/16″ and down
Uses: stucco, sandboxes, playground
Price: $70.00 per yard
Gravels
Screened Base Gravel

Size: 1″ (27mm) and down
Uses: packing, leveling, driveways
Price: $40.00 per yard
Washed Concrete Gravel

Size: 3/4″ (20mm) and down (mix of washed rock and washed sand)
Uses: mixing concrete
Price: $45.00 per yard
Crusher Dust

.
Size: 1/4″ (10mm) and down
Uses: packing, leveling, base for false turf
Price: $45.00 per yard
Crushed Concrete (Recycled Material)

.
Size: 1″ (27mm) and down
Uses: packing, leveling, driveways
Price: $27.00 per yard
Rocks
Tile Rock (Unwashed)

Size: 1 1/8″ (30mm) – 1″ (25mm)
Uses: weeping tile, basements, drainage, driveways
Price: $59.00 per yard
Washed Rock

Size: 3/4″ (20mm) – 3/8″ (10mm)
Uses: tamping in fence posts, drainage, concrete mix, driveways
Price: $70.00 per yard
Pea Rock

Size: 3/8″ (10mm) – 1/8″ (5mm)
Uses: drainage, landscaping, playgrounds, exposed driveways, dog runs, concrete mix
Price: $48.00 per yard
Precast
Precast
Our precast concrete products are D.O.T. approved for British Columbia, Alberta, Saskatchewan and Manitoba. Available at the concrete plant location on highway #11 near Warman.
Jersey Barriers 8′ base, 24″ wide and 34″ high $380.00 each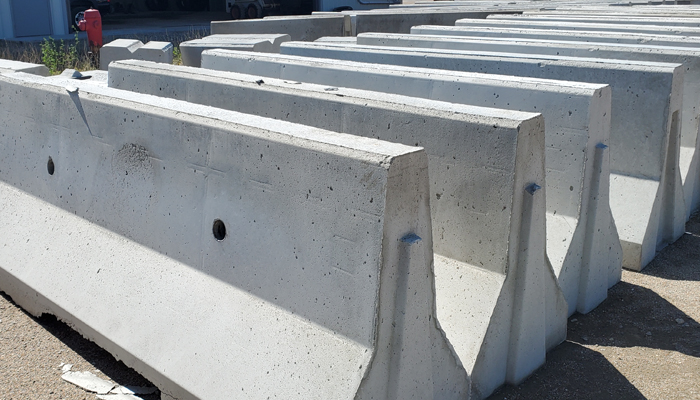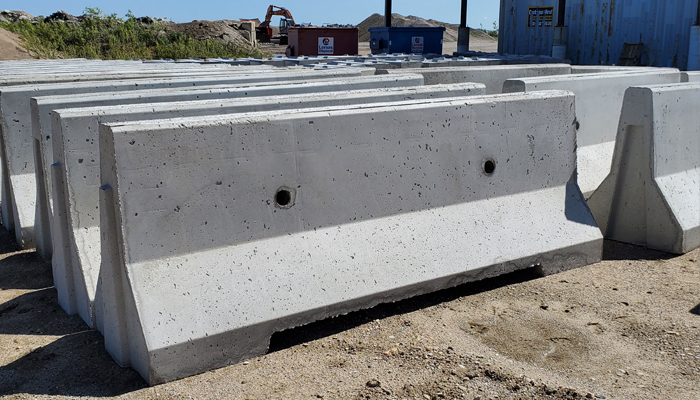 Interlocking Blocks 2′ x 2′ x 4′ $90.00 each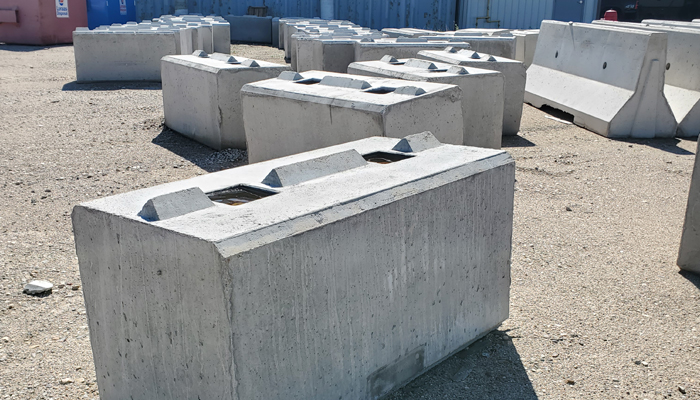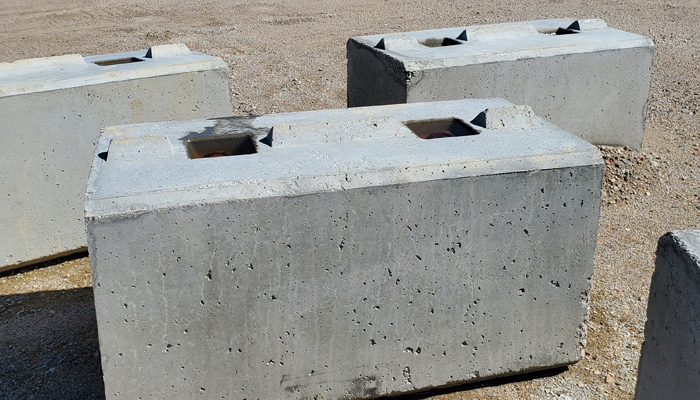 Stone Works
Stone Works
Froese Concrete Ltd. is a long time producer of quality concrete and aggregate products at our plant in Warman located at the bottom of the south bound overpass.
We recently created a division called Stone Works located at the south end of the aggregate yard. There we create unique products from stone, concrete, and steel. We make a variety of home, office and yard decor. Ornamental stone bowls, coaster sets, polished stone and concrete accent tables and many sizes and styles of concrete planters and benches. Among many other items. We custom saw and carve stone for customers and create many items made to order.
Call Tim at 306-227-8298.